Dental Crowns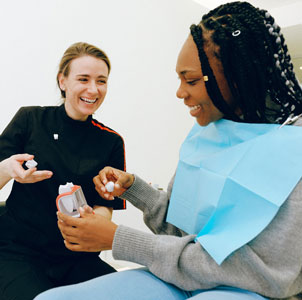 When it comes to dentistry, a dental crown is a covering that sits over top of an existing tooth. A dental crown can be used in the event that you break a tooth beyond the extent of repair, yet it holds enough structure to allow for the crown to be attached instead of a dental implant. There are many scenarios where one may need a crown, but in each case it is usually preferable to save the existing tooth whenever possible.
Situations Where a Crown May Be the Ideal Dental Solution
A large filling has broken down, or has formed decay around them may need a crown to save the tooth. A cracked tooth may need a crown to hold it together. Never wait to see a dentist, as a cracked tooth can become sensitive or even break if left untreated.
Teeth that are very sensitive, from a lot of "wear" or from receded gums will sometimes require crowns in order to seal and protect the teeth from hot and cold sensitivity.
A tooth that has become broken may be too weak to support a filling, and a dental crown may be necessary to hold the tooth together and prevent it from breaking any further. If the fracture is too deep, a root canal may be necessary before the crown is attached.
A tooth that has undergone Root Canal Therapy will need a crown to properly seal and protect the tooth.
Dental Crowns at Thornhill Dentistry may be the solution that can save your broken or cracked tooth, and prevent you from needing a dental implant in the future. At Abitibi Dental Centre, North York Dentist, Dr. Saul Dimitry will evaluate your situation depending on your oral health and the condition of your teeth, and provide you with a solution that meets your oral care needs. Come into our Thornhill Dentistry today at 8 Abitibi Ave or call us at 416-223-0550 for more information on Dental Crowns, or to book a complimentary consultation!