Invisalign Clear Braces
Invisalign is the newest, and least intrusive form of orthodontic treatment available. Invisalign straightens teeth using a series of practically invisible, removable aligners that are custom fitted for your teeth. They are comfortable, clear and removable – making them the first choice for many who undergo orthodontic treatment.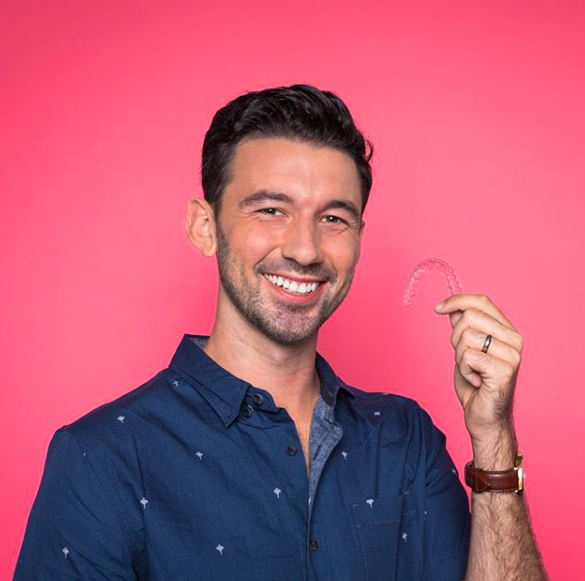 You'll wear each set of clear aligners for about two weeks, and only remove them to eat, drink, brush and floss. As you replace your aligner with its subsequent piece, your teeth will move little by little each time, until they have straightened to the final position your orthodontist or dentist has prescribed. The total treatment time averages between 9 and 15 months, with about 18 to 30 different aligners used, depending on each person's unique dental goals. At Abitibi Dental, we provide Invisalign orthodontic solutions right in our Willowdale, North York based dental clinic.
How Does Invisalign Work?
Invisalign braces are created using 3D computer imaging technology, which allows the dentist or orthodontist to show patients the overall goals of the Invisalign treatment period. The 3D software will visually show the changes the clear braces will make to the patient's teeth over the entire treatment from start to finish. This Invisalign software is then used to design an individualized series of custom made aligners. The patient will wear each aligner for about two weeks at a time, incrementally moving the teeth into the desired location by the end of the process.
What do Invisalign Aligners Look Like?
The Invisalign aligners look like a clear mold of your teeth, and look a lot like a retainer or a tooth whitening tray. The aligners are molded for either the top or bottom of your mouth, or often both. The best part about Invisalign, is that they are totally transparent and you can barely even tell that they are there. Essentially, they are clear braces!
Will Invisalign Treatment be Painful?
Each time you change to a new aligner, you may feel some temporary discomfort as your teeth adjust to their new positioning. It is completely normal, and is a sign that treatment is working!
Will Wearing Invisalign Aligners Affect my Speech?
Wearing the Invisalign aligners can often feel strange at first, and may take some time to get used to. Within a short period of time, patients get used to the overall feeling and are able to talk normally, as if nothing is in their mouth. Every patient is different!
How Often do I Have to Wear my Aligners?
Invisalign will only work properly if you wear your aligners at all times, other than when eating and when brushing and flossing your teeth. The more you wear them the better your results will be.
How Much Does Invisalign Cost?
Cost is always a concern, and only your dentist can determine the true price of treatment. Typically, it costs about the same as traditional metal braces, ranging from $3,000 to $5000 or more depending on the specific details of your case.
Does Invisalign Really Work?
Yes! In orthodontic and dental practices across Canada and the United States, and worldwide, Invisalign has been proven to be an effective tooth straightening solution.
Does Insurance Cover Invisalign?
Any insurance plan that covers orthodontics should cover the cost of Invisalign!
Are you interested in Invisalign treatment? Contact our Thornhill Dentistry, Abitibi Dental, today to learn more about straightening your teeth with this innovative process. Ask us about this today or visit us in North York!