Professional Teeth Whitening
Have your teeth lost their pearly white, healthy appearance? Between aging, diet, injuries and various other factors, teeth can become dull and yellow. Don't worry, you aren't alone, this is a very common concern for many people, and best of all — there is a solution!
In-Office Teeth Whitening at Abitibi Dental Centre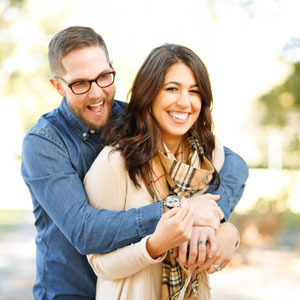 At our office at Yonge and Steeles, we provide professional teeth whitening services to patients from all across North York, Thornhill, Vaughan and the GTA. Our Thornhill Dentistry uses a whitening product that mildly bleaches and restores stained or discoloured teeth to a healthy and natural white colour. The process is extremely safe, and is far superior to any over the counter whitening solutions sold at retailers throughout North America.
The results from our professional teeth whitening can last as long as a year, and with at home touch-up treatment every few months, results can last even longer! "Touch-ups" are ever so important for those who drink beverages that are prone to staining teeth such as coffee, tea and red wine. Some patients experience heightened tooth sensitivity or mild tooth or gum sensitivity during treatment. These symptoms are only temporary and will alleviate a few days after treatment.
What Causes Tooth Discolouration?
Tooth discolouration happens naturally, and can be a result of oral health, and consumption habits. Some of the most common sources of tooth discolouration include:
Coffee, Tea, Wine & Soft Drinks
Aging – The dentin underneath the enamel of a tooth naturally darkens over time
Smoking
Accidents – A dead nerve will darken a tooth
Root Canal Therapy
If you are looking to have your teeth professionally whitened, and are tired of the over the counter whitening solutions that don't seem to be working, contact our North York Dentists and team today. Our Thornhill Dentistry is located at Yonge and Steeles, at 8 Abitibi Avenue. As well, feel free to call us at 416-223-0550.
Introducing Opalescence Go – our NEW at home Teeth Whitening System
Is your smile not looking it's best?
If you smile is missing it's sparkle, ask us about take home teeth whitening.
Opalescence Go is the perfect option for patients who are looking for convenient, ready-to-go whitening. Opalescence Go can deliver dramatic results in as a little as 15 – 20 minutes per day. The whitening trays are both comfortable and effective and can be done without taking impressions, models, or any lab time required, Opalescence Go is the professional alternative to over-the-counter options and is an excellent introduction to whitening as well as a perfect follow-up to in-office whitening.