Smile Makeover – Teeth Improvement Options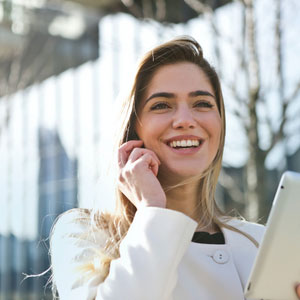 At Abitibi Dental Centre, our North York Dentists and team know the true value of a beautiful smile. If you've been considering a smile makeover and looking for options to improve your teeth, look no further than our talented team of dental professionals. At our Thornhill Dentistry, our experienced staff are happy to assist you in creating the beautiful smile you've always wanted!
Our Smile Makeover Solutions!
Invisalign Orthodontics / Invisible Braces
Have you been considering braces to straighten your teeth and correct your bite, but been hesitant due to their aesthetic appearance? Not to worry, we provide Invisalign orthodontic solutions that are transparent, aesthetically pleasing, highly effective and affordable! Click here to learn more about our Invisalign orthodontic solutions!
Veneers
Are you looking to reinvent your smile through custom shaped and coloured veneers? We apply veneers to straighten crooked teeth, close gaps, repair broken teeth, whiten permanently stained teeth, and enhance your overall smile. Click here to learn more about how veneers are the ideal form of smile makeover!
Crowns
Do you have a damaged tooth that is beyond repair by traditional fillings? We can still save your tooth, and avoid dental implants by creating a dental crown to cover, seal and strengthen your damaged tooth! Protect your teeth and enhance your smile with a dental crown. Click here to learn more about the advantages of crowns!
Dental Bridges
If you're missing a tooth, regardless of its location in your mouth, don't leave it untreated. Left as is, your teeth can shift out of position, directly impacting your smile while also leaving an area of gums susceptible to infection. Instead, a dental bridge will return your teeth to their natural positioning, and sustain your wonderful smile. Click here to learn more about dental bridges, and how they can be used in a smile makeover!
Bonding
Do you have lightly stained, crooked or gapped teeth? These common dental issues can easily be resolved through dental bonding. We can cover natural flaws by sculpting bonding material to the shape of your existing teeth and provide the look, colour and feel you have always wanted. Click here to learn more about the key benefits of dental bonding!
White Fillings
Do you require a filling, or wish to replace your existing metallic fillings that have caused you pain? We provide custom shaded white fillings, made of a durable composite that bonds directly to your teeth, and leaves no signs of dental repair. Click here to learn more about white fillings, and how they are essential for your smile makeover!
Professional Teeth Whitening
Have you always wanted whiter, brighter teeth? Are you fed up with consumer grade whitening products that don't seem to do the trick? We provide a professional tooth whitening service that will have your teeth significantly whiter within minutes! Click here to learn why professional teeth whitening is the most common form of smile makeover!
Laser Dentistry
Are you looking for a dentist with laser dentistry capabilities? At Abitibi Dental Centre, we provide laser treatments that are often less painful, and less uncomfortable than traditional dental drills. Laser dentistry is an excellent, modern tool that we are proud to provide our patients. Click here to learn more about the unique features of laser dentistry!