Root Canal Therapy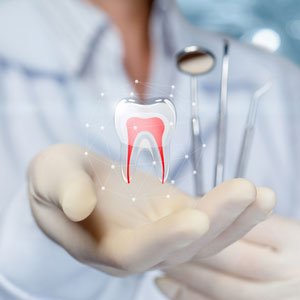 At the core of your tooth, there is an area that we refer to as the pulp. The pulp is the nerve of your tooth where blood and nutrients necessary to the tooth are stored and circulated. If for whatever reason the pulp is damaged, it becomes susceptible to infections that can cause pain, swelling, bone damage and even loss of the tooth. In order to save the original tooth and avoid any additional problems that come along with a damaged pulp, root canal therapy is often the suggested course of action.
What is a Root Canal?
Root canal therapy allows us to save your tooth rather than removing it, and replacing it with a dental implant or denture. The root canal process involves creating an opening in the crown of your tooth. The opening is used to remove the pulp inside the tooth, and the interior canal is cleaned out, shaped and smoothed.
Once the canal area is infection free, it is then filled and sealed. As a result the tooth will no longer be receiving vital nutrients from the removed pulp, and the tooth will become more brittle than the surrounding teeth. For this reason, we create a crown or cap to strengthen and protect your tooth's chewing surface. This is especially important for teeth further in the back of your mouth, as they are predominantly used for chewing.
Overall, we perform root canal therapy for our patients so that they can save their existing tooth, and strengthen it with a cap instead of a completely new implant or denture altogether.
The root canal process involves a few visits to our dental office, as the procedure is completed in stages to allow for proper healing and to ensure the infection is gone, and bacteria is removed. It is also common for the tooth to become darker than the rest of your teeth. This is a normal occurrence, and our team will make sure to create a crown that matches the rest of your teeth!
When is a Root Canal Necessary?
If you are experiencing discomfort, pain or swelling of the tooth, these are often signs of infection. The level of discomfort can range from minor to extreme, and will often feel like a throbbing sensation. As well, it can often be hard to identify the exact tooth, and instead only identify pain regions such as sides, top or bottom of the mouth. If you are experiencing pain, it is important to see a dentist, as the doctor will examine your teeth for any signs of nerve infections, and will test to see if it is indeed a situation that requires root canal therapy.
If you are experiencing pain or discomfort in your teeth, please feel free to contact our Thornhill Dentistry, Abitibi Dental Centre. Our North York Dentists and team will sit you down for a free consultation and provide you with a dental solution that will have you smiling again! Come visit our Yonge and Steeles location at 8 Abitibi Ave, or call our Thornhill Dentistry at 416-223-0550